T series spiral bevel gear steering box|T series bevel gear commutator|spiral bevel gear commutator
.
Electronic Catalog
PDF Catalog
T series one-stage spiral bevel gear transmission box, standardized, multi-variety, speed ratio 1:1, 1.5:1, 2.5:1, 3:1, 4:1, 5:1 are all actual transmission ratios. The average efficiency is 98%.
Available in single shaft, double horizontal axis, single vertical axis and double vertical axis.
The spiral bevel gear can be operated in forward and reverse directions, with low speed or high speed transmission, low noise, low vibration and high endurance.
The structural diagram of the T series commutator consists of the base, the horizontal shaft, the horizontal shaft, the vertical shaft, the horizontal shaft bevel gear, the longitudinal shaft bevel gear, the end cover, the bearing, the oil seal and the oil hole.
The T series commutator has a steering function that changes the output shaft as the direction of rotation of the input shaft changes.
T commutation box should pay attention to the speed relationship when selecting the input shaft (no speed relationship at 1:1)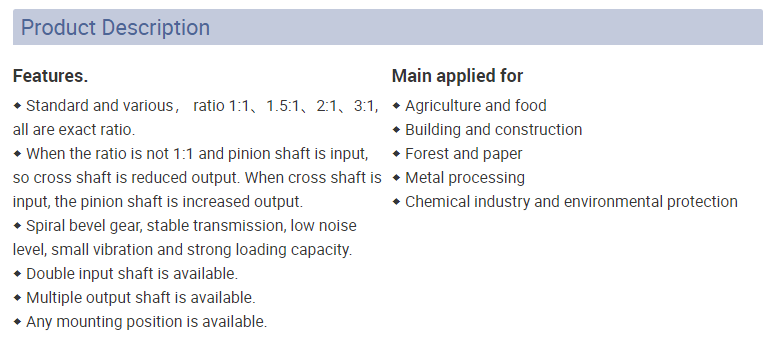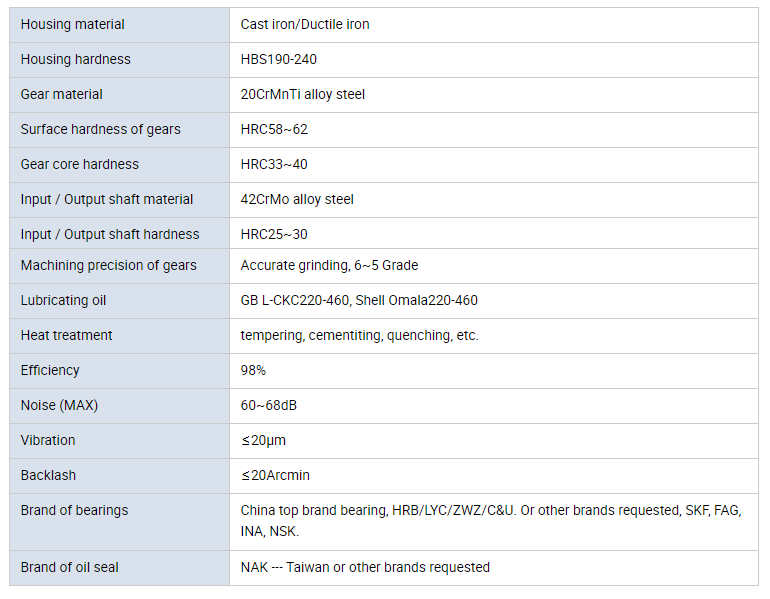 T series reducer has the following models:
T2-1:1 T2-2:1
T4-1:1 T4-2:1
T6-1:1 T6-1.5:1 T6-2:1 T6-2.5:1 T6-3:1 T6-4:1 T6-5:1
T7-1:1 T7-1.5:1 T7-2:1 T7-2.5:1 T7-3:1 T7-4:1 T7-5:1
T8-1:1 T8-1.5:1 T8-2:1 T8-2.5:1 T8-3:1 T8-4:1 T8-5:1
T10-1:1 T10-1.5:1 T10-2:1 T10-2.5:1 T10-3:1 T10-4:1 T10-5:1
T12-1:1 T12-1.5:1 T12-2:1 T12-2.5:1 T12-3:1 T12-4:1 T12-5:1
T16-1:1 T16-1.5:1 T16-2:1 T16-2.5:1 T16-3:1 T16-4:1 T16-5:1
T20-1:1 T20-1.5:1 T20-2:1 T20-2.5:1 T20-3:1 T20-4:1 T20-5:1
T25-1:1 T25-1.5:1 T25-2:1 T25-2.5:1 T25-3:1 T25-4:1 T25-5:1
TB series reducer has the following models:
TB6 TB7 TB8 TB10 TB12 TB16