HB series standard industrial gearbox features:
B series helical bevel gear reducer
Electronic Catalog
PDF Catalog
1.H, B high-power gear reducer adopts universal design scheme, which can be transformed into industry-specific gearbox according to customer requirements.
2. Realize parallel shaft, orthogonal shaft, vertical and horizontal general-purpose cabinets, with fewer types of parts and more specifications.
3. Adopting the structure of the suction box body, large cabinet surface area and large fan, cylindrical gear and spiral bevel gear adopt advanced grinding process to improve the temperature rise, noise reduction and reliability of the whole machine. The power is increased.
4. Input mode: motor coupling flange, shaft input.
5. Output mode: solid shaft with flat key, hollow shaft with flat key, hollow shaft with expansion joint, hollow shaft with spline joint, solid shaft with spline joint and solid shaft with flange joint.
6. Installation method: horizontal, vertical, swing base type, torsion arm type.
7.H, B series products have 3 to 26 specifications, the number of reduction transmission stages is 1 to 4, and the speed ratio is 1.25 to 450; and the combination of R, K and S series of our factory has a larger speed ratio.
Technical Parameters:
1. Speed ratio range 1.25-450
2. Torque range 2.6-900kN
3. Power range 4-5000kW
product description

feature

High modular design, with independent intellectual property rights.
The German worm gear is used to process the worm gear.
Through special gear geometry, it has high torque, high efficiency and long life cycle.
It can realize the direct combination of two sets of gearboxes.
Installation method: foot installation, flange installation, torque arm installation.
Output shaft: solid shaft, hollow shaft.

Main application industries

Chemical and Environmental Protection
metal processing
Building Construction
Agriculture and food
Textile and leather
Forest and paper
Car wash machinery
product data

Shell material

Cast iron / ductile iron

Shell hardness

HBS190-240

Gear material

20CrMnTi alloy steel

Gear surface hardness

HRC58 ° ~ 62 °

Gear core hardness

HRC33 ~ 40

Input / output shaft material

42CrMo alloy steel

Input / output shaft hardness

HRC25 ~ 30

Gear machining accuracy

Precision grinding, level 6 ~ 5

lubricating oil

GB L-CKC220-460, Shell withstand voltage 220-460

Heat treatment

Tempering, carburizing, quenching, etc.

effectiveness

94% ~ 96% (depending on the transmission stage)

Noise (maximum)

60 ~ 68dB

Temperature rise (MAX)

40 ° C

Temperature rise (oil) (maximum)

50 ° C

vibration

≤20um

Recoil

≤20Arcmin

Bearing brand

Chinese brand bearings, HRB / LYC / ZWZ / C & U. Or other brands requested, SKF, FAG, INA, NSK.

Oil seal brand

NAK --- Taiwan or other brand requirements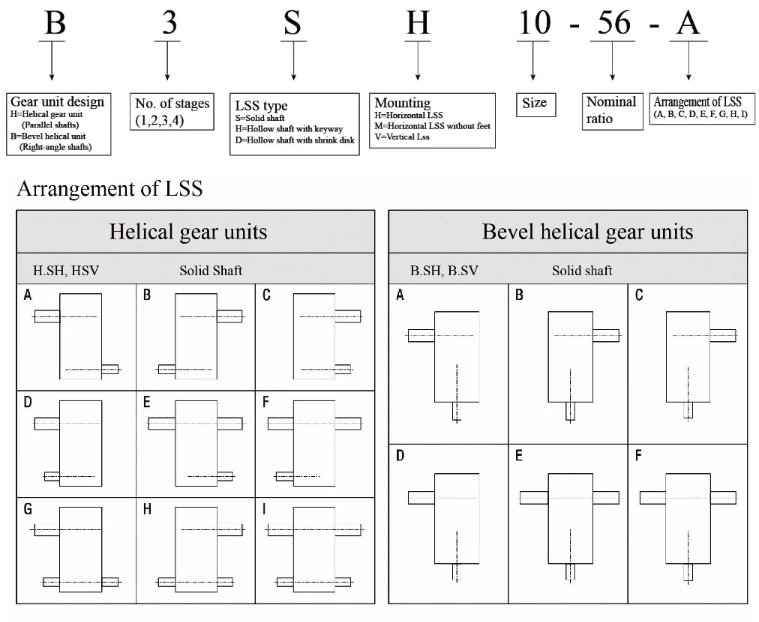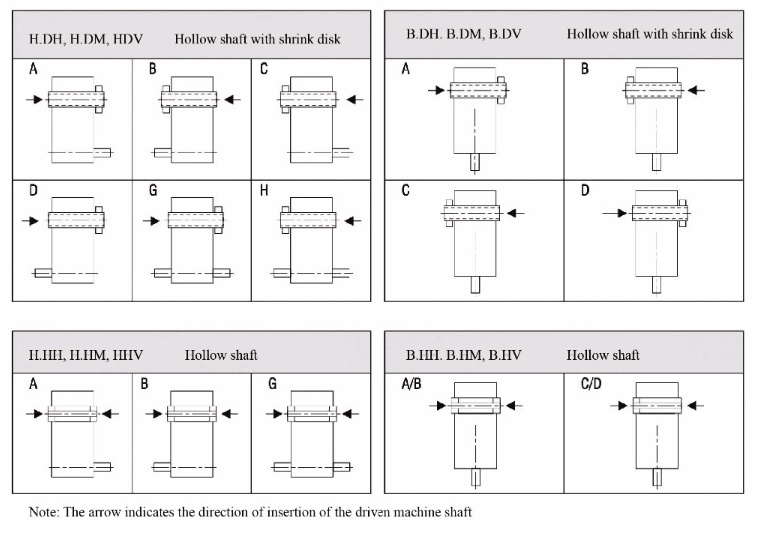 | | |
| --- | --- |
| 01-H.B series model expressing example.pdf | 02-HB series type selection example.pdf |
| 03-Service Factors.pdf | 04-Permissible Additional Radial Forces on Output Shaft.pdf |
| Electronic Catalog | PDF Catalog |
| HB Series gear box price USD.pdf | USD account information.pdf |
HB series reducer has the following models:
H1SH H1SH3 H1SH4 H1SH5 H1SH6 H1SH7 H1SH8 H1SH9 H1SH10 H1SH11 H1SH13 H1SH14 H1SH15 H1SH16 H1SH17 H1SH18 H1SH19
H2SH4 H2SH5 H2SH6 H2SH7 H2SH8 H2SH9 H2SH10 H2SH11 H2SH12 H2SH13 H2SH14 H2SH15 H2SH16 H2SH17 H2SH18 H2SH19 H2SH20 H2SH21 H2SH22 H2SH23 H2SH24 H2SH25 H2SH26
H2HH4 H2HH5 H2HH6 H2HH7 H2HH8 H2HH9 H2HH10 H2HH11 H2HH12 H2HH13 H2HH14 H2HH15 H2HH16 H2HH17 H2HH18 H2HH19 H2HH20 H2HH21 H2HH22 H2HH23 H2HH24 H2HH25 H2HH26
H2DH4 H2DH5 H2DH6 H2DH7 H2DH8 H2DH9 H2DH10 H2DH11 H2DH12 H2DH13 H2DH14 H2DH15 H2DH16 H2DH17 H2DH18 H2DH19 H2DH20 H2DH21 H2DH22 H2DH23 H2DH24 H2DH25 H2DH26
H3SH5 H3SH6 H3SH7 H3SH8 H3SH9 H3SH10 H3SH11 H3SH12 H3SH13 H3SH14 H3SH15 H3SH16 H3SH17 H3SH18 H3SH19 H3SH20 H3SH21 H3SH22 H3SH23 H3SH24 H3SH25 H3SH26
H3HH5 H3HH6 H3HH7 H3HH8 H3HH9 H3HH10 H3HH11 H3HH12 H3HH13 H3HH14 H3HH15 H3HH16 H3HH17 H3HH18 H3HH19 H3HH20 H3HH21 H3HH22 H3HH23 H3HH24 H3HH25 H3HH26
H3DH5 H3DH6 H3DH7 H3DH8 H3DH9 H3DH10 H3DH11 H3DH12 H3DH13 H3DH14 H3DH15 H3DH16 H3DH17 H3DH18 H3DH19 H3DH20 H3DH21 H3DH22 H3DH23 H3DH24 H3DH25 H3DH26
H4SH7 H4SH8 H4SH9 H4SH10 H4SH11 H4SH12 H4SH13 H4SH14 H4SH15 H4SH16 H4SH17 H4SH18 H4SH19 H4SH20 H4SH21 H4SH22 H4SH23 H4SH24 H4SH25 H4SH26
H4HH7 H4HH8 H4HH9 H4HH10 H4HH11 H4HH12 H4HH13 H4HH14 H4HH15 H4HH16 H4HH17 H4HH18 H4HH19 H4HH20 H4HH21 H4HH22 H4HH23 H4HH24 H4HH25 H4HH26
H4DH7 H4DH8 H4DH9 H4DH10 H4DH11 H4DH12 H4DH13 H4DH14 H4DH15 H4DH16 H4DH17 H4DH18 H4DH19 H4DH20 H4DH21 H4DH22 H4DH23 H4DH24 H4DH25 H4DH26

B2SH4 B2SH5 B2SH6 B2SH7 B2SH8 B2SH9 B2SH10 B2SH11 B2SH12 B2SH13 B2SH14 B2SH15 B2SH16 B2SH17 B2SH18
B2HH4 B2HH5 B2HH6 B2HH7 B2HH8 B2HH9 B2HH10 B2HH11 B2HH12 B2HH13 B2HH14 B2HH15 B2HH16 B2HH17 B2HH18
B2DH4 B2DH5 B2DH6 B2DH7 B2DH8 B2DH9 B2DH10 B2DH11 B2DH12 B2DH13 B2DH14 B2DH15 B2DH16 B2DH17 B2DH18
B3SH4 B3SH5 B3SH6 B3SH7 B3SH8 B3SH9 B3SH10 B3SH11 B3SH12 B3SH13 B3SH14 B3SH15 B3SH16 B3SH17 B3SH18 B3SH19 B3SH20 B3SH21 B3SH22 B3SH23 B3SH24 B3SH25 B3SH26
B3HH4 B3HH5 B3HH6 B3HH7 B3HH8 B3HH9 B3HH10 B3HH11 B3HH12 B3HH13 B3HH14 B3HH15 B3HH16 B3HH17 B3HH18 B3HH19 B3HH20 B3HH21 B3HH22 B3HH23 B3HH24 B3HH25 B3HH26
B3DH4 B3DH5 B3DH6 B3DH7 B3DH8 B3DH9 B3DH10 B3DH11 B3DH12 B3DH13 B3DH14 B3DH15 B3DH16 B3DH17 B3DH18 B3DH19 B3DH20 B3DH21 B3DH22 B3DH23 B3DH24 B3DH25 B3DH26
B4SH5 B4SH6 B4SH7 B4SH8 B4SH9 B4SH10 B4SH11 B4SH12 B4SH13 B4SH14 B4SH15 B4SH16 B4SH17 B4SH18 B4SH19 B4SH20 B4SH21 B4SH22 B4SH23 B4SH24 B4SH25 B4SH26
B4HH5 B4HH6 B4HH7 B4HH8 B4HH9 B4HH10 B4HH11 B4HH12 B4HH13 B4HH14 B4HH15 B4HH16 B4HH17 B4HH18 B4HH19 B4HH20 B4HH21 B4HH22 B4HH23 B4HH24 B4HH25 B4HH26
B4DH5 B4DH6 B4DH7 B4DH8 B4DH9 B4DH10 B4DH11 B4DH12 B4DH13 B4DH14 B4DH15 B4DH16 B4DH17 B4DH18 B4DH19 B4DH20 B4DH21 B4DH22 B4DH23 B4DH24 B4DH25 B4DH26

H2SV4 H2SV5 H2SV6 H2SV7 H2SV8 H2SV9 H2SV10 H2SV11 H2SV12 H2SV13 H2SV14 H2SV15 H2SV16 H2SV17 H2SV18 H2SV19 H2SV20 H2SV21 H2SV22
H2HV4 H2HV5 H2HV6 H2HV7 H2HV8 H2HV9 H2HV10 H2HV11 H2HV12 H2HV13 H2HV14 H2HV15 H2HV16 H2HV17 H2HV18 H2HV19 H2HV20 H2HV21 H2HV22
H2DV4 H2DV5 H2DV6 H2DV7 H2DV8 H2DV9 H2DV10 H2DV11 H2DV12 H2DV13 H2DV14 H2DV15 H2DV16 H2DV17 H2DV18 H2DV19 H2DV20 H2DV21 H2DV22
H3SV5 H3SV6 H3SV7 H3SV8 H3SV9 H3SV10 H3SV11 H3SV12 H3SV13 H3SV14 H3SV15 H3SV16 H3SV17 H3SV18 H3SV19 H3SV20 H3SV21 H3SV22
H3HV5 H3HV6 H3HV7 H3HV8 H3HV9 H3HV10 H3HV11 H3HV12 H3HV13 H3HV14 H3HV15 H3HV16 H3HV17 H3HV18 H3HV19 H3HV20 H3HV21 H3HV22
H3DV5 H3DV6 H3DV7 H3DV8 H3DV9 H3DV10 H3DV11 H3DV12 H3DV13 H3DV14 H3DV15 H3DV16 H3DV17 H3DV18 H3DV19 H3DV20 H3DV21 H3DV22
H4SV7 H4SV8 H4SV9 H4SV10 H4SV11 H4SV12 H4SV13 H4SV14 H4SV15 H4SV16 H4SV17 H4SV18 H4SV19 H4SV20 H4SV21 H4SV22
H4HV7 H4HV8 H4HV9 H4HV10 H4HV11 H4HV12 H4HV13 H4HV14 H4HV15 H4HV16 H4HV17 H4HV18 H4HV19 H4HV20 H4HV21 H4HV22
H4DV7 H4DV8 H4DV9 H4DV10 H4DV11 H4DV12 H4DV13 H4DV14 H4DV15 H4DV16 H4DV17 H4DV18 H4DV19 H4DV20 H4DV21 H4DV22

B2SV4 B2SV5 B2SV6 B2SV7 B2SV8 B2SV9 B2SV10 B2SV11 B2SV12 B2SV13 B2SV14 B2SV15 B2SV16 B2SV17 B2SV18
B2HV4 B2HV5 B2HV6 B2HV7 B2HV8 B2HV9 B2HV10 B2HV11 B2HV12 B2HV13 B2HV14 B2HV15 B2HV16 B2HV17 B2HV18
B2DV4 B2DV5 B2DV6 B2DV7 B2DV8 B2DV9 B2DV10 B2DV11 B2DV12 B2DV13 B2DV14 B2DV15 B2DV16 B2DV17 B2DV18
B3SV4 B3SV5 B3SV6 B3SV7 B3SV8 B3SV9 B3SV10 B3SV11 B3SV12 B3SV13 B3SV14 B3SV15 B3SV16 B3SV17 B3SV18
B3HV4 B3HV5 B3HV6 B3HV7 B3HV8 B3HV9 B3HV10 B3HV11 B3HV12 B3HV13 B3HV14 B3HV15 B3HV16 B3HV17 B3HV18
B3DV4 B3DV5 B3DV6 B3DV7 B3DV8 B3DV9 B3DV10 B3DV11 B3DV12 B3DV13 B3DV14 B3DV15 B3DV16 B3DV17 B3DV18
B4SV5 B4SV6 B4SV7 B4SV8 B4SV9 B4SV10 B4SV11 B4SV12 B4SV13 B4SV14 B4SV15 B4SV16 B4SV17 B4SV18 B4SV19 B4SV20 B4SV21 B4SV22
B4SV5 B4SV6 B4HV7 B4HV8 B4HV9 B4HV10 B4HV11 B4HV12 B4HV13 B4HV14 B4HV15 B4HV16 B4HV17 B4HV18 B4HV19 B4HV20 B4HV21 B4HV22
B4SV5 B4SV6 B4DV7 B4DV8 B4DV9 B4DV10 B4DV11 B4DV12 B4DV13 B4DV14 B4DV15 B4DV16 B4DV17 B4DV18 B4DV19 B4DV20 B4DV21 B4DV22