MBY400,MBY450,MBY560,MBY630,MBY710,MBY800,MBY900,MBY1000,MBY1100
Chinese speed reducer is widely used in mining machinery, chemical industry,steel metallurgy, light industry,environmental protection, paper making, printing, lifting transport, food industry and so on.
Main Series Product: R series helical gear reducer, K series spiral bevel gear reducer, NGW, P series planetary reducer, H B series gearbox, Z (ZDY, ZLY, ZSY, and ZFY) serial hard tooth surface cylindrical gear reducer, D (DBY and DCY) serial hard tooth surface cone gear reducer, cycloid reducer, etc. Meanwhile, map sample processing business can be undertaken.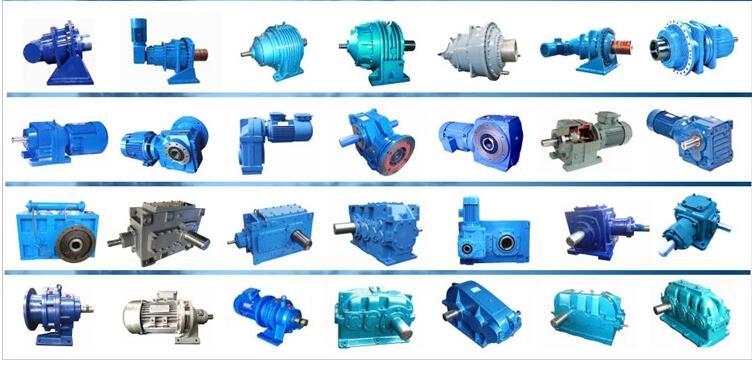 Feature:
Applicable to the metallurgical,power generation,water treatment,construction,chemical,paper,

textiles,medicine,food and other industries.

The transmission efficiency of single-stage can reach up to 98%, two-stage can reach 96%, three-stage can reach 94%.

The gear processed by Carburizing & Grinding with high precision.

High precision gear, steady transmission, large load capacity

Long service life.

One Two Three Stage Speed Reducer
High Quality JDX/MBY Series Edge Single Drive Cylindrical Gearbox for cement mill:
(please contact us for more types & model)
MBY400,MBY450,MBY560,MBY630,MBY710,MBY800,MBY900,MBY1000,MBY1100
Model selection:
Closely using the ideal reduction ratio.
Reduction ratio = servo motor speed / reducer output shaft speed
Torque calculation: Torque calculation is very important for the life of reducer, and pay attention to whether the maximum torque value (TP) of acceleration exceeds the maximum load torque of the reducer.
The applicable power is usually the applicable power of the servo models on the market, the applicability of the reducer is very high, the working coefficient can be maintained above 1.2, but the choice can also be based on their own needs to decide.ZSY series two stage cylindrical transmission reducer for belt conveyor. High Quality JDX/MBY Series Edge Single Drive Cylindrical Gearbox for cement mill.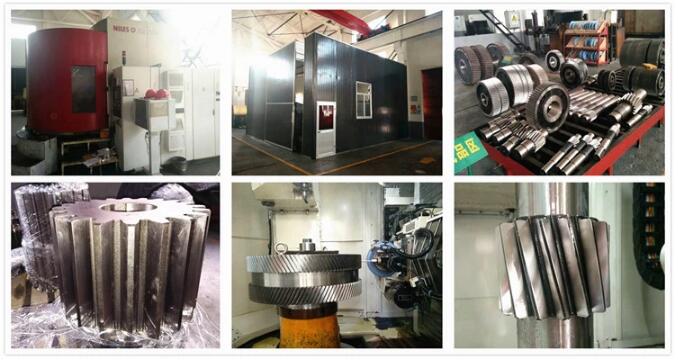 Data
Ratio
Input Speed
Model
MBY400
MBY450
MBY500
MBY560
MBY630
MBY710
MBY800
MBY900
MBY1000
MBY1100
4
1000
496
688
892
1235
1710
2380
3160
4455
5890
7600
740
368
510
656
915
1270
1764
2340
3300
4365
5630
600
300
410
530
740
1030
1430
1890
2670
3500
4560
4.5
1000
418
580
741
1036
1445
2011
2670
3766
4960
6430
740
310
430
549
768
1070
1490
1980
2790
3676
4765
600
250
350
445
620
860
1200
1600
2250
2970
3850
5
1000
357
510
634
886
1240
1710
2280
3226
4250
5485
740
265
380
470
657
918
1270
1690
2392
3150
4063
600
215
308
380
530
740
1030
1370
1930
2550
3290
5.6
1000
300
418
534
745
1040
1445
1917
2700
3585
4540
740
223
310
396
552
770
1070
1420
2000
2656
3363
600
180
250
320
450
620
860
1150
1620
2150
2720
6.3
1000
248
350
440
620
864
1200
1590
2250
2956
3816
740
184
260
327
460
640
890
1180
1670
2190
2827
600
150
210
265
370
520
720
950
1350
1770
2280
7.1
1000
200
290
367
513
702
990
1360
1860
2400
3140
740
150
215
272
380
520
734
1010
1380
1800
2325
600
120
175
220
307
420
590
800
1100
1460
1880