ZQ JZQ SOFT TOOTH FACE GEAR BOX

Electronic Catalog
PDF Catalog
ZQ Cylindrical gear reducer gear carburizing, quenching, grinding, high bearing capacity, low noise; mainly used for belt conveyor and various kinds of transport machinery, can also be used to drive other general machinery. It has the advantages of high bearing capability, long service life, small volume, high efficiency, light weight, for the input shaft and the output shaft is vertically arranged in the driving device.
The field of cylindrical gear reducer is widely used in metallurgical equipment, mining equipment, automation equipment, food machinery, packaging equipment, tobacco equipment etc..
Zq Cylindrical gear speed reducer
Zq Cylindrical gear speed reducer is a three-level transmission of involute cylindrical gear reducer, mainly used inmining, metallurgy, cement, construction, chemical industry, light industry, etc all kinds of mechanical equipment, reduction drive, is suitable for the workplace being limited by the structure adopts the vertical installation, high-speed spindle speed not more than 1500 r/min, the work environment to + 40 °C and 40 °C -, can positive &negative operation.
Main Features
1.gear with high strength and low carbon alloy steel by carburizing quenching, tooth surface hardness of HRC58-62, gear are CNC grinding process, high precision, good contact.
2.transmission rate is high: single stage is greater than 96.5%, double stage is greater than 93%, grade three is greater than 90%.
3.stable operation, low noise.
4.small size, light weight, long service life, high carrying capacity.
5.easy to be disassembled and easy to install.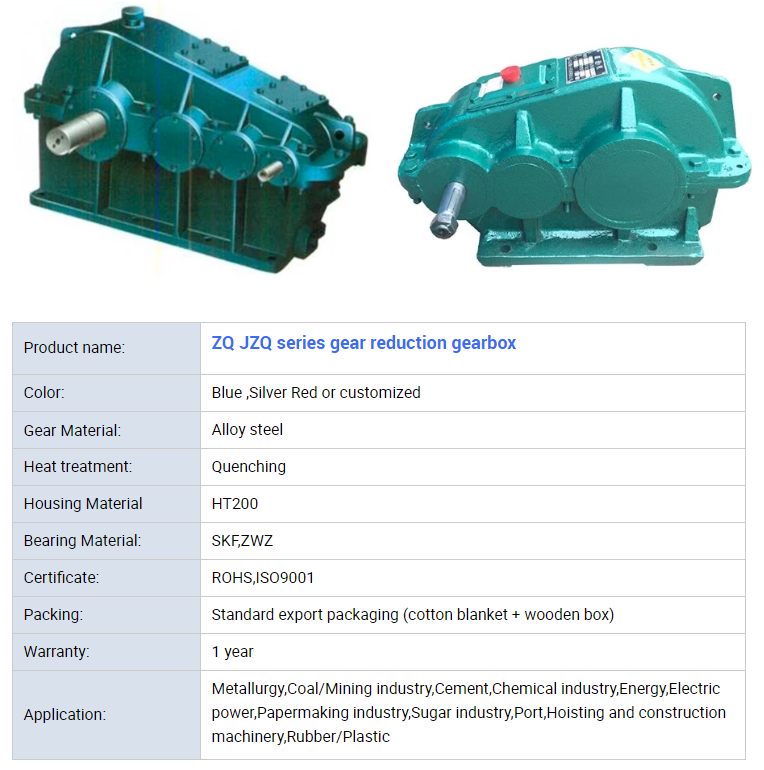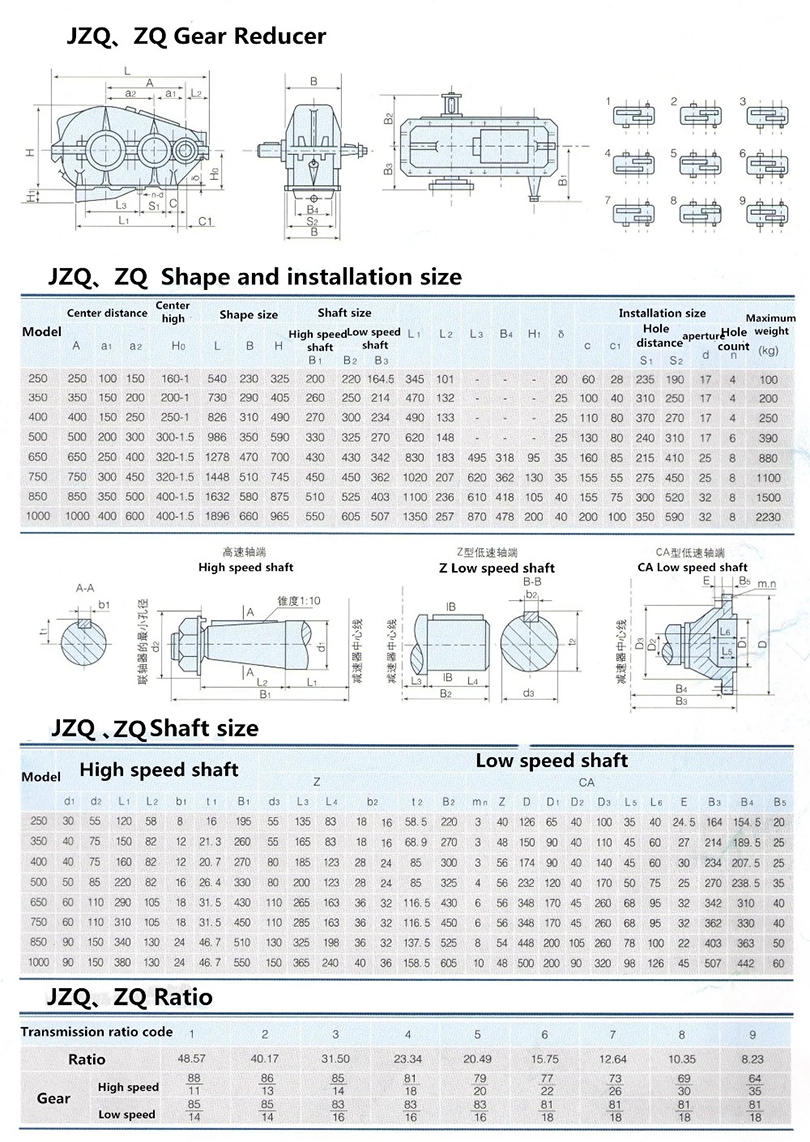 Soft tooth surface cylindrical gear reducer series:
ZQ-250 ZQ-350 ZQ-400 ZQ-500 ZQ-650 ZQ-750 ZQ-850 ZQ-1000
ZD10 ZD15 ZD20 ZD25 ZD30 ZD35 ZD40 ZD45 ZD50 ZD60 ZD70
ZDH10 ZDH15 ZDH20 ZDH25 ZDH30 ZDH35 ZDH40 ZDH45 ZDH50 ZDH60 ZDH70
ZL25 ZL35 ZL42.5 ZL50 ZL60 ZL65 ZL75 ZL85 ZL100 ZL115 ZL130
ZLH25 ZLH35 ZLH42.5 ZLH50 ZLH60 ZLH65 ZLH75 ZLH85 ZLH100 ZLH115 ZLH130
ZS50 ZS65 ZS75 ZS82.5 ZS95 ZS110 ZS125 ZS145 ZS165
ZSH50 ZSH65 ZSH75 ZSH82.5 ZSH95 ZSH110 ZSH125 ZSH145 ZSH165
ZSC(A)320 ZSC(A)400 ZSC(A)500 ZSC(A)600 ZSC(A)650 ZSC(A)800
ZSC350 ZSC400 ZSC600 ZSC750
ZQD350 ZQD400 ZQD500 ZQD650 ZQD850 ZQD1000
ZSC400+75.8 ZSC600+125 ZSC400+75.8
Medium hard surface cylindrical gear reducer series:
ZQA250 ZQA350 ZQA400 ZQA500 ZQA650 ZQA750 ZQA850 ZQA1000
QJ-L140 QJ-L170 QJ-L200 QJ-L236 QJ-L280 QJ-L335 QJ-L400
QJ-T140 QJ-T170 QJ-T200 QJ-T236 QJ-T280 QJ-T335 QJ-T400
ZDZ80 ZDZ100 ZDZ125 ZDZ160 ZDZ200 ZDZ250 ZDZ280 ZDZ315 ZDZ355 ZDZ400 ZDZ450 ZDZ500 ZDZ560
ZLZ112 ZLZ125 ZLZ140 ZLZ160 ZLZ180 ZLZ200 ZLZ224 ZLZ250 ZLZ280 ZLZ315 ZLZ355 ZLZ400 ZLZ450 ZLZ500 ZLZ560 ZLZ630 ZLZ710
ZSZ160 ZSZ180 ZSZ200 ZSZ224 ZSZ250 ZSZ280 ZSZ315 ZSZ355 ZSZ400 ZSZ450 ZSZ500 ZSZ560 ZSZ630 ZSZ710
DBZ160 DBZ180 DBZ200 DBZ224 DBZ250 DBZ280 DBZ315 DBZ355 DBZ400 DBZ450 DBZ500 DBZ560
DCZ160 DCZ180 DCZ200 DCZ224 DCZ250 DCZ280 DCZ315 DCZ355 DCZ400 DCZ450 DCZ500 DCZ560 DCZ630 DCZ710 DCZ800